· New Article About Using DooDoo Voodoo In Leather
We've had excellent personal experience using DooDoo Voodoo on leather, so given that so many customers ask us about this topic, we put together a page discussing the dos and don'ts. Check out Treating Odors In Leather.
· Recent News About KILZ-type Sealers
Visit our Salvaging Pee-Soaked Subfloor page to read some recently added text about odor sealers from Zinsser. A friend used their odorless product and said it was very effective and didn't bother her or her animals.
· Important Note About Lost Packages
Due to too many customer complaints about having to be at home to sign for receiving their shipment from us (upon delivery by FedEx) because of being at work, we now no longer require delivery signatures. We are NOT liable if FedEx delivers your package but you say you never received it. Meaning, we will not re-send you another shipment at no charge to replace the one you didn't receive. If you believe there is a chance that your shipment may be stolen if left at your door, please have your shipment sent to a neighbor's address, the front desk at your apartment building, your workplace, etc. We are sorry for the inconvenience of this policy, but we simply cannot absorb the cost of sending out free replacements. Not having to be home to sign for the package is actually intended to make your life easier, but it's not without risk, so plan accordingly.
· Revisions To "How To Introduce A New Kitty"
We have posted some new thoughts on the correct way to introduce a new kitty to your home if you already have cats. Please click here to read our latest information, which is appended to the bottom of the document.
· Updated Instructions For Paying With PayPal
PayPal has made a change to their webform that affects one piece of information we need from you when you order. Click here to learn what you can do to ensure that your order gets to you as quickly as possible.
· Updated Instructions For Using DooDoo Voodoo With A Carpet Cleaning Machine
Visit our Extraction Instructions page for expanded instructions on using DooDoo Voodoo with your consumer-grade or professional-grade carpet cleaning machine.
· Cats And Oral Cancer
We were forced to euthanize a cat for whom we were providing care during the final days of her life. Lilly passed away from oral cancer due to having lived in a smoking household. To read her story and to learn about cats and their increased risk of oral cancer, click here and browse to the Lilly section.
· New Dealer Ships Outside The Continental USA
We recently signed on a new online dealer (www.odorsfrompetsbegone.com) that ships both Ready-To-Use and Concentrate domestically and outside the continental USA. If you're not in the contiguous 48 states, or if you desire to purchase a spray bottle of RTU DooDoo Voodoo (which we don't sell direct, only through our dealers), please visit www.odorsfrompetsbegone.com.
· New Testimonial Letter Posted
Visit the red box near the top of the TESTIMONIALS page to read a letter from a very satisfied customer.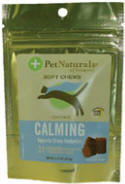 · Change Your Cat's (Or Dog's) Behavior...Naturally
We recently have had extraordinary success at helping cats get along and at helping them stop indiscriminately urinating so much by giving them calming treats by Pet Naturals of Vermont. Cats that formerly tried to tear each other apart, and who were having a peeing contest that wouldn't end, are now lying near each other and eating out of the same dish at the same time. Check with your vet to make sure your kitty is okay to eat these calming treats, but if so, we bet you'll be pleased with their effect on your cat (or dog; they also make dog treats). You can buy them at major pet supply retailers and online at places such as LuckyVitamin.com, HealthSuperstore.com and our personal favorite, Swanson Vitamins. We've also recently seen these available at Meijer stores, though not at their website. Here's a link to a Google Shopping search for 'em.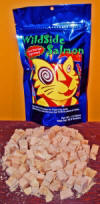 · Natural Cat Treats
Our favorite treats are natural salmon treats with no preservatives. Cats love 'em and they've got lots of Omega 3s that are beneficial in so many ways. The best deal we've found on them is at http://catniptoys.com/Merchant2/merchant.mvc?Screen=CTGY&Category_Code=T. Try 'em out!
· Great Cats Available For Adoption
Our private rescue facility is too full of cats who deserve a great home. If you're in the Central Indiana area and are looking for a new love, or know someone who is, please contact us. Please help our needy cats find forever homes if you can, and spread the word for us! To learn more about the kitties we have available, click here.
· Air Fresheners And Your Health
Recently, spray-type and plug-in-type air fresheners have been in the news because of findings that they contain chemicals that have proven harmful (such as causing liver and kidney cancer in laboratory animals), and which have been shown to cause breathing difficulties in humans, especially those with compromised lung function. DooDoo Voodoo's germ- and odor-killing action, along with its largely natural and biodegradable ingredients, can help you attain the fresh-smelling home you desire...perhaps without the negatives associated with the air fresheners that have been in the news lately. We've put together a new page about additional ways to freshen your air and you can check it out here. Discussed are air purifiers, ionizers, UV units, air exchangers, air-quality test kits and more. Our favorite new tool is Dr. Whitaker's Neoair Plus Total Shield air purifier, which we bought more than a dozen of.
While we're talking about air purifiers, we wanted to share with you a site we found that seems to quite rationally discuss the pros and cons of a variety of top brands of air purifiers. Interestingly, the units we've used for years got horrible marks (and lots of negative user comments), while the Neoair units we're now using got very, very good reviews and are highly recommended. To visit the site, click here. Consumer Reports also recently did an in-depth study of various brands of air purifiers. More info is available to subscribers at their website.
· Extra...Free!
We wanted to point out that our bottles generally contain more product than the quoted capacity. For example, our Concentrate Quart actually contains as much as 36 ounces of product, which equates to more than 5% additional product FREE. So, the value DooDoo Voodoo provides is even better than it seems!
· Competitors Charging More For Less
On June 29, 2007, at a national pet supplies retailer we saw a gallon of pet odor neutralizer selling for $34.99. The label said that the user should use the product as-is and should not dilute it further.
An online competitor (whose product is sold as an odor neutralizer but isn't similar to DooDoo Voodoo in formulation) is selling their product for prices far greater than we charge for DooDoo Voodoo. PLUS, their product isn't as concentrated, so each container yields HALF as much as ours. They also charge additional for shipping, whereas we include free FedEx ground shipping (in the continental USA) in our prices.
Once you add in their shipping charges, the competitor's product costs as much as $11.00 per gallon (once diluted for use), whereas our product costs as little as $1.24 a gallon once you add your own tap water.
These are two more examples of why we continue to believe that nothing beats DooDoo Voodoo's effectiveness OR value. Don't spend more and get less!
· Audio Clip Of Testimonial
We recently received a wonderful voicemail from a satisfied customer and thought you'd enjoy hearing it. We had counseled her about sealing her concrete subfloor with Zinsser BIN Sealer...but it turned out that she didn't need to because DooDoo Voodoo was so effective on her (extreme) cat urine odor.
To play the 757KB MP3 file, click here. (Right click and select Save Target As to save it to your hard drive. The file may take a while to download if you have a slow connection.)
· Pee Counseling Page Now Posted
For some time, we've been sharing our thoughts on people's pee problems and their animals' behavior via e-mail. Now we're going to begin posting their letters and our responses so everyone can, hopefully, benefit from the discussions. We've posted a recent letter and response, and you can read them on our new Pee Counseling page.
· Full-Service Carpet Care & Odor Remediation In Indy
We now offer in-depth pet odor remediation services in the greater Indianapolis area. We can pull carpet back, remove & replace pad, remove & replace tack strips, seal subfloors, repaint baseboards, caulk nail holes and more, all in addition to performing Indy's most thorough and effective carpet cleaning! To learn more, click here.
· Recent Ad In Indy Tails Magazine
You can see our latest DooDoo Voodoo ad in Indy Tails magazine by clicking here to view the PDF file (297Kb in size).
· Perhaps The Best DooDoo Voodoo Testimonial Ever
We've received from a customer a glowing report on DooDoo Voodoo's broad effectiveness. Betsy, the customer, has used DooDoo Voodoo in a wide variety of ways, and on a wide variety of stains and odors. Her testimonial, which was totally unsolicited, speaks volumes about DooDoo Voodoo's effectiveness in so many ways. Please be sure to read it at the top of our TESTIMONIALS page. We love hearing success stories, so please share yours with us by sending us an e-mail.

· New Indianapolis Dealer
We're pleased to announce that the Michigan Road Animal Hospital is now a stocking dealer of DooDoo Voodoo. We are quite happy to have this well-established clinic join our list of Indianapolis-area dealers. You can find the Michigan Road Animal Hospital contact info on our PRODUCTS page.
· Georgette Loses Her Battle With Cancer
We recently lost one of our housecats, Georgette, to metastasized cancer. You can read her life story and see photos here. You can read about other animals of ours who have passed over the Rainbow Bridge by clicking here. On the Georgette page there is also helpful (subjective) information about what we learned medically from Georgette's battle with cancer. She is an incredible girl and we're blessed to have her be a part of our lives. You can also access a PDF document I put together about cleaning up the blood Georgette vomited the day before she passed away. It is perhaps the most amazing cleanup job DooDoo Voodoo's done yet on stains and we recommend you take a look at it. Talk about effective!
· DooDoo Voodoo Cat Litter Now Available In Indy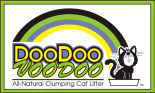 We've yet to develop a full web page about it, but we wanted to let local customers know that our cat litter is now available at the Broad Ripple Animal Clinic and Noah's Animal Hospital at 56th & Emerson on Indy's northeast side, as well as at the Fishers Bridgeview Animal Hospital. (You can find these clinics' contact info on our PRODUCTS page.)
Available in 25# jugs, DooDoo Voodoo Cat Litter is a phenomenal product, yet we've priced it within pennies of most of the store-bought brands...and nearly two bucks cheaper per pound than some of them! For instance, at a national pet products retailer, they sell clumping litter for as much as $2.13 a pound, but DooDoo Voodoo Cat Litter is a fraction of that price. (Actual selling prices are set by our dealers.) It's the only clumping litter we've used in our rescue facility and home since 1988 and can tell you from experience that it's a GREAT litter. Your cats will LOVE it. A top Indy vet said, quote, "I'm going to tell every cat owner I know that they MUST use this litter!" That's a direct quote from a top vet!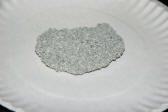 The benefits of DooDoo Voodoo Clumping Cat Litter are many, and we've used it with fantastic success with the hundreds of cats & kittens we've rescued and fostered over the years. Our litter forms tighter clumps than other brands, thus providing what we've found to be the best odor control available. How tightly does it clump? Well, shown to the right is a picture I shot on 7-4-08 of a demonstration (water, not urine) clump from 1988! Yes, 1988! Our litter is all-natural, is not bleached, has no added fragrance, is not dyed, is dramatically lower in dust than other brands and clumps really well (think your brand would stay clumped for 20 years?). In unscientific studies, cats have preferred our litter 10:1 versus other brands. Customers report that their cats love our litter...even cats who exhibited indiscriminate urination with their previous litters, such as those from warehouse clubs.
Cats who like their litter are much less likely to pee outside the litter box or hold their urine, which can put them at higher risk for urinary infections, so please give DooDoo Voodoo Clumping Cat Litter strong consideration, especially if you have cats who exhibit indiscriminate urination.
Stay tuned for more details. For the time being, though, here's a PDF flyer we put together about DooDoo Voodoo Clumping Cat Litter. The PDF is 332KB in size. If you're in Indianapolis and want to buy litter bulk, it is available in 50# bags with a minimum purchase of 10 bags. You load 'em. E-mail us for more info.
(Click the thumbnail image to see a larger version of our trademarked logo. The cat in the litter box and rainbow concepts have been our trademarks since 1988.)

· Gift Certificates Now Available For Purchase Right On This Site
On our PRODUCTS page we've now implemented the option to buy a gift certificate for any of our products, or an all-purpose gift certificate in a $25, $50 or $100 denomination. A gift certificate is the perfect way to say "I care...and you've got an odor problem" during the holiday season or year 'round. Give the gift of DooDoo Voodoo to the pet owner, homeowner or realtor® in your life!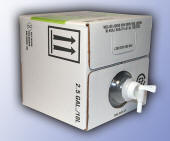 · 2.5 Gallon Bulk Concentrate Container Now Available
We have just introduced a 2.5 gallon bulk container of DooDoo Voodoo Concentrate that's perfect for realtors, used home buyers, apartment dwellers, maid services, professional carpet cleaners and more. We've knocked the price way down, so it's your best buy by far. Add your own warm water and your price per quart of RTU (ready-to-use) DooDoo Voodoo is as low as just 31˘ per quart. It's a phenomenal deal. Visit our PRODUCTS page to purchase.
· Stain Removal? Yeah, We Do That...Very Well, Thank You.
For years people have been asking us if DooDoo Voodoo is effective on stains as well as odors. We've generally shied away from making stain removal claims 'cause we didn't want people hating us if DooDoo Voodoo didn't remove their stains. Over the years, people have reported total success at removing urine, vomit, feces, cranberry juice, grape juice and lots more. Well, we thought we'd show you an example of how well DooDoo Voodoo can remove staining from cat vomit. To read more and see before and after pictures, click here. (There's only one picture and it's really not that gross. Our kitty's on a liquid, tube-feeding diet, so what you see on the carpet is really just liquified cat food.)
· Customer Comment On Competing Product
In taking an order from a Seattle, WA, customer on the phone, the customer mentioned that she'd used two competing products, and that one of them, which has the word urine in the name, "really made the smell a lot worse!" rather than better. Before that product, she had used another popular bacteria-based product that she said made no difference whatsoever.
· Carpet Cleaning In The Indianapolis Area
For some years, we've had a relationship with Kolby Carpet Cleaning Company. Kolby now uses DooDoo Voodoo exclusively as their pet odor treatment product. If you're in the Indianapolis area and need carpet cleaning, we encourage you to call Kolby at 317-861-0211. We also recently forged a relationship with an IICRC-certified master technician and, after working with him on a pet odor remediation job, can vouch for his skillset. For his contact info, please call or e-mail us.
· Instructions For Using DooDoo Voodoo With A Hoover FloorMate® Hard Surface Cleaner
We recently had great success using DooDoo Voodoo and a Hoover FloorMate to clean the epoxy floors in our private rescue facility. Read about the method we used and the results we achieved by clicking here.
· New Ad Now Running
We've placed an ad in the popular Indy Tails publication. You can get a look at the ad here.
· DooDoo Voodoo In The Washer
In case you miss it elsewhere on our site, we wanted to reiterate here that many folks have had good results washing pee-soaked items in their washer with just DooDoo Voodoo Concentrate in lieu of soap, bleach, oxygen booster, etc. We've run soiled blankets with as little as 1oz. of DooDoo Voodoo Concentrate, while we've heard from folks who used as much as half a cup of Concentrate to run their loads. Given the strength of our Concentrate and the detergent the formula contains, don't overdo it so as to not have excess suds. Germ and odor control in one easy step!

· Now Offering Pet Odor 911™ Immediate Relief Formula
When you visit the PRODUCTS page, you now have the ability to purchase the awesome Pet Odor 911™ Immediate Relief Formula. It's designed to help you get a leg up on your odor problems while you're waiting for your DooDoo Voodoo Concentrate Kit to arrive via FedEx. The formula is affordable and you might have the necessary ingredients in your house right now. Save $5 with the purchase of any DooDoo Voodoo Concentrate Kit! For more info, click here.
· New Article About Salvaging Pee-Soaked Subfloor
Subsequent to wrapping up the whole-condo odor remediation job we recently undertook (see NEWS item further down), we wrote an article that shows how to go beyond what DooDoo Voodoo alone can do for you. To visit the article, click here.
· Blacklights Now In-Stock For Immediate Shipping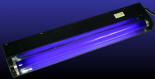 Over the years, we've tried every blacklight fixture and every type of bulb we could get our hands on, including some of the pathetic little handheld units our competitors sell. We were simply appalled at how most of the fixtures and bulbs we tried didn't show urine at all. Some of them seemed to simply be regular bulbs that had been painted blue or purple...even some of the bulbs that were pretty expensive.
Why do some blacklights not do a very good job of showing urine or other organic materials? Well, the blacklight spectrum is quite broad, kind of like the tuning range of your FM radio dial. The problem is that some bulbs put out, to make an analogy, a frequency which would be at the top of the radio dial, while the urine or other organic material you want the blacklight to show you fluoresces (glows) when subjected to a frequency that's at the bottom of the radio dial. To put it another way, if you're wanting to hear a station that's at 90.1FM, tuning your dial to 107.9FM won't do you any good at all. This is analogous to how most blacklights we tried didn't show us the organic material we wanted them to show us. In addition, some were just too darned dim to be useful.
The unit we've settled on is made by GE and features a bulb which puts out the correct part of the ultraviolet spectrum. We've taken delivery of a large number of these units and now have them available on our PRODUCTS page at a price of $24.99 ($31.94 including shipping in the continental USA), which is a lot less than we paid for the unit we've been using for some time now.
If you're serious about locating your urine, the DooDoo Voodoo Blacklight is the one you need! It makes a great gift for any pet owner...or especially for the realtor® in your life.